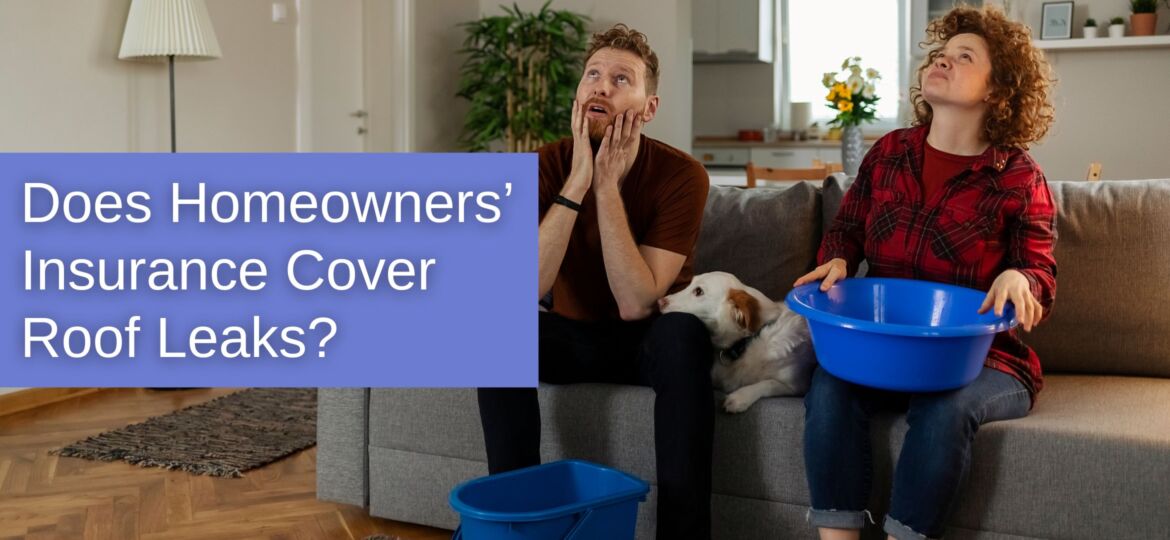 Water dripping in your house is almost always a cause for immediate concern. Roof leaks are a major cause of damage to flooring, furniture, and drywall. The moisture from the leak can also create mold and mildew.
Roof leaks are covered by home insurance in certain cases, but there may be exclusions. This guide was created to help you better understand the coverage and exclusions for roof leaks under home insurance.
Does home insurance cover roof leaks?
Your homeowners' insurance should cover the damage if your ceiling or roof leaks because of a covered peril. The physical structure of your home is covered by most home insurance policies on an "open peril" basis. Most policies cover your roof from any damage, except those specifically excluded by your policy.
Your home insurance will most likely cover the roof leak if, for example, during a storm, wind blows away some roof shingles, causing water to leak through your ceiling. If, however, there is a slow drip due to incorrectly installed or deteriorated chimney flashing for example, the resulting damage may not fall under your insurance policy.
The following perils are typically excluded from most standard HO-3 insurance policies:
The policy does not cover ground movement due to earthquakes, landslides, or sinkholes unless you add a specific endorsement.

Floods

Mold

Normal wear and tear

Infestations – bed bugs or termites.

Nuclear accidents

Pet damage

Government Action

Setting the foundation

Theft of a dwelling that is being constructed

Vandalism is possible if a property is vacant

Certain dog breeds

Loss or neglect that is intentional

A frozen or broken pipe bursts in an empty home

Snow or ice causing damage to pavement or foundations
Does homeowners' insurance cover a new roof?
Although many roof leaks are easily repaired, more severe damage may require an entirely new roof. The type of insurance you have will determine if your insurer covers a roof replacement.
Replacement cost value vs. actual cash value
Some homeowner's insurance policies will cover the roof at "replacement costs". This type of insurance will cover the entire cost of a new roof in the event that you require one following a covered loss. If you choose actual cash value, your insurer will lower your payout to reflect the depreciation based on your roof's age.
Let's say your roof was meant to last for 20 years. You need to replace your roof after only 10 years. If you had actual cash value insurance, your insurer would subtract half of the roof's worth because it is halfway through its lifespan. After subtracting your deductible and the roof's value, the payout you receive from your insurance company is far less than the cost to replace it.
To save money, some homeowners opt for the actual cash value policy. It's not always an option. Some insurance companies offer coverage for the actual cash value of your roof if it is older than a certain age.
Will my insurance cover damage caused by a roof leak?
Your homeowners' insurance coverage will be determined by the initial cause of a roof leak. If the roof leak was caused due to a covered peril then your homeowners' insurance will cover it. Your home insurance should cover the cost of repairing the structural damage to your home. The personal property coverage will pay for the replacement or repair of damaged items up to your policy limits.
Your homeowners' insurance might pay for roof repairs or replacements depending on the extent and severity of roof damage. If hurricane windstorm damage is the cause of the leak, you may have to pay a hurricane-windstorm deductible instead of the standard policy deductible.
In some cases, mold caused by a leaky roof may be covered under your home insurance policy. This will depend on the length of time since the original cause of loss occurred, how quickly you can resolve your claim and complete repairs, as well any endorsements that may exist.
How to find a roof leak?
You should find a ceiling or roof leak as quickly as possible. This will minimize any water damage and improve your chances of getting it covered by your homeowners' insurance. Experts suggest a few steps to follow to locate a roof leak.
You can pinpoint the source of a leak if you see water marks or mold on the walls. There may be a nearby leak. Check the area above the ceiling for signs of water damage, such as soft flooring. Search for possible entry points, such as damaged, cracked or missing shingles, cracks in the vent pipe, chimney or missing gutters. Check your attic, particularly on rainy days, for signs of mold or water damage. Water leaks are often indicated by rotten wood or moldy insulation.

Repairs should be made immediately: As soon as you discover the source of the leak it is crucial to repair the damage. Some repairs may be doable by the homeowner, while others require professional assistance. Document the entire process before you make any changes if you need to file an insurance claim.

Regularly check your roof: Check it to ensure that your roof is working properly. Replace any damaged, cracked or missing shingles as soon as possible. Check that the vent and chimney pipes are in good condition and that the flashing has not been damaged.

You can catch leaks early by inspecting the ceiling of your top floor. Check the roof and attic for any damage if your ceiling is damaged.
Should I file a claim for a leaky roof?
Your homeowners' insurance may cover your roof leak if it was caused by an accident. If the leaky roof has been present for some time, or is the result of wear and tear, your insurance company may deny your claim. You will not receive coverage for damage caused by excluded perils. Therefore, you should read through your policy to determine if it is worth filing a claim.
Consider the age of your roofing system. There is a possibility that the claim could be denied if your roof is old and in need of repairs. In this case, your homeowners' insurance broker may send you a letter requiring that your roof is repaired or replaced. Your insurance policy may also be canceled or not renewed. In some states the coverage for roof damage is based on actual cash value. This means that roof replacement or repair is subject to depreciation.
Even if you have not received any compensation, any claim that you make with your insurance provider could increase your premiums. Home claims are impacted by rates differently for each insurance company. You may want to have a roof inspection done to determine the extent of damage before you decide whether or not to file a claim.
Should I repair or replace a roof that is leaking?
The extent of damage, age of roof and budget will determine whether you repair or replace a leaky roof. The cost of some repairs could be so low that they are below the deductible on your homeowners' insurance. It may be worth it to fix the roof yourself, or hire a roofing contractor. If the leak is severe, it may be best to file a claim with your insurance company. A roof inspection, or consulting with a local roofing contractor may be the best option to determine the extent of the damage and the potential costs associated with your roof.
How to file a claim for roof damage
Here are the steps you should take once you decide to file a claim:
Don't delay. You may be eligible to submit your claim via phone, the website or mobile app of the insurer. You should file your claim as soon as you can to start the process, especially if it is due to damage caused by a natural disaster. If there are many homeowners in the area who need assistance, it can take a long time to settle claims.
If possible, document the damage. We recommend that you leave the inspection of your roof to professionals, but you can take photos of any interior issues such as water stains or damaged furniture.
Choose a reputable roofer. Do not choose the cheapest roofing company. Check references, review reviews and ensure the company is licensed in your area.
Beware of roofers who go door-to-door after disasters. Some roofing contractors may offer you low prices or promise you a replacement roof for free if they file your claim. These offers are usually scams.
How to avoid roof leaks
Regularly inspect your roof to detect small problems before they become large ones.

Keep your gutters, downspouts and drains free of debris.

Trim tree branches or tall bushes close to your roof. This will keep the debris from your gutters, and stop moss growing in damp or shady areas.

Look for signs of a problem in your attic, such as rust, rust, mold, or blocked ventilation.
Key takeaways
Home insurance will usually cover leaks in your roof that are caused by covered perils. They may not, however, cover damage caused by normal wear and tear or other excluded perils.

If the roof leak is caused by a covered peril, your homeowners' insurance will typically pay to repair the damage caused by the leak or replace your roof, minus your deductible.

Inspecting your roof regularly and repairing any damage can help you avoid potential roof leaks.

If you need to file a claim for a roof leak, you should report the problem as soon as reasonably possible. Also be sure to look for a reputable

roofing contractor

when doing so.