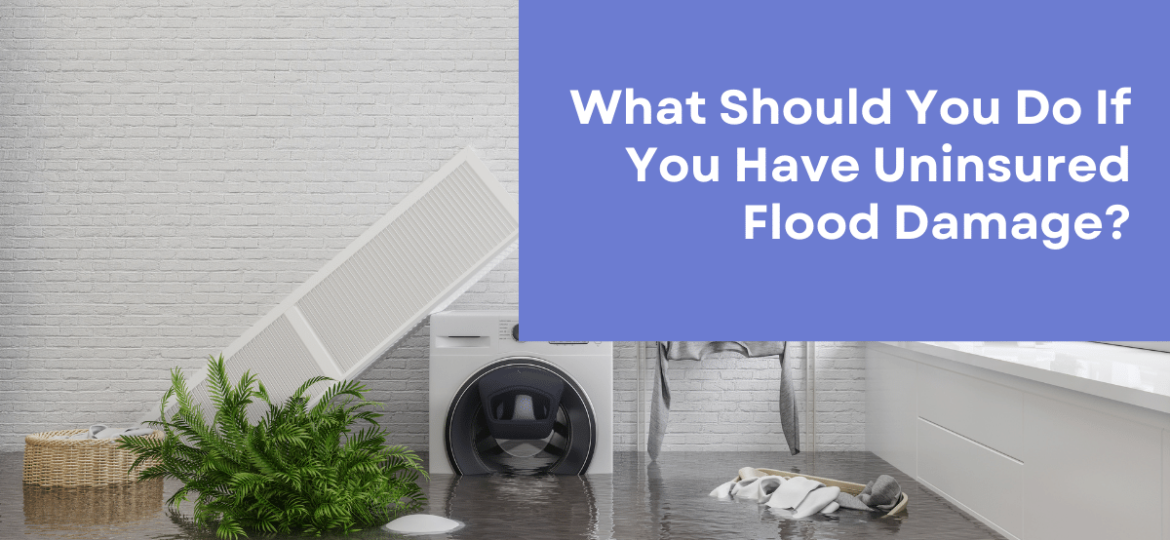 Flood insurance is the best protection against flooding-related losses. Unfortunately, standard homeowners and renters insurance policies will not likely cover the damage.
There are still options if you don't have insurance and your home is damaged by flooding. You may be eligible for grants through FEMA and loans through the SBA to help with flood damage.
FEMA disaster grants
FEMA Individuals & Households Program grants, or IHP, are available to those whose homes are in a federally designated disaster area. This could include flooding. IHP grants are quick grants that can be used to restore your home or apartment to its original condition following a disaster. Although grants are available up to $33,000 on the official website, the payouts are often much lower — for example, the average grant for homes flooded by Hurricane Sandy was $8,000.
These grants are primarily meant to cover expenses not covered by flood insurance. However, everyone may apply, regardless of their income level or whether they have flood insurance. If you have flood insurance, you just have to pay back the grant with flood insurance funds once you receive it. 
What is the FEMA IHP Grant?
FEMA's IHP grant is available to flood victims who don't have flood insurance. It can provide financial assistance in specific ways following a disaster or flood. This covers the cost of rebuilding your home and any additional living expenses you may incur from being evacuated.
FEMA grants will not pay for replacing a bed in an unoccupied guest room if it is flood-prone. The maximum payout is $33,000, but most people get far less. 
This coverage is significantly less than NFIP flood insurance which provides up to $250,000 for your home and belongings to be repaired or replaced.
These are some of the things IHP grants might cover:
Repair assistance

: FEMA can provide financial assistance for repairs to your house, including the structure and electrical systems. You shouldn't expect an IHP grant to cover all the costs of restoring your home to pre-disaster conditions. The goal is to make your home habitable.

Temporary housing assistance

: Provides temporary housing for those whose homes are damaged or destroyed by a natural disaster. These funds are usually allocated in one-to three-month increments for up to 18 months after a disaster.

Additional needs assistance

: An IHP grant can also be used to pay for a few items. These items include medical and funeral expenses. They also cover necessary purchases related to disaster recovery such as a dehumidifier or chainsaw. Other personal property, such as clothing, may also be eligible for damages, but only if an SBA loan was denied to cover them.
Who is eligible to receive FEMA IHP grants
There are specific requirements for eligibility for IHP grants. First, applicants must live in an area that is federally declared a disaster area. The assignment of this area is done on a case by case basis. It usually has geographic boundaries that are set by each county.
In the case of hurricane Michael in 2018, individuals were granted assistance to residents in 12 counties in the Florida Panhandle. You wouldn't be eligible if you suffered damage in another county in Florida.
To be eligible for an IHP grant, you must also meet the following requirements:
The home is inaccessible or uninhabitable due to the disaster.

The home is where you live for the majority of the year.

You have necessary expenses or needs not covered by an insurance agency or another source.

At least one resident must be a U.S. citizen, non-citizen national, or otherwise qualified resident.
Finally, if you live in a Special Flood Hazard Area and do not have flood insurance, you will only be allowed to make one IHP claim. After that, you must purchase flood insurance. If you do not, any claims for following disasters will be denied.
The Small Business Administration offers home repair loans
You can get a homeowner disaster loan from the Small Business Administration if you have exceeded the IHP grant maximum or are otherwise ineligible.
You will have to repay it as a loan. However, they have long repayment terms and low-interest rates. Repayment terms will be determined individually and take into account your ability to repay.
If you are eligible for an SBA loan, we recommend you apply even if it is not something you intend to use. Although you are not required to accept the money, applying could allow you to apply to FEMA for grant money that you might not otherwise be eligible for.
Here are some ways you can get an SBA catastrophe loan
SBA loans are unlike FEMA IHP grants because they have broad guidelines about what you can use the money for. If your homeowners' insurance does not cover it, the money can be used to replace or repair your home and your personal property. You can't use it to remodel your house or make additions. It can only be used to restore your home to its original condition.
Residence

: Repair or replacement to a primary residence to pre-disaster condition. 

Limit 200,000

Personal property

: You can replace clothing, furniture, and appliances. 

Limit 40,000
Requirements for SBA loan eligibility
SBA disaster relief loans can only be used by homeowners in federally designated disaster areas. You can only use SBA home catastrophe loans to fix your primary residence. It won't cover any business-related damage, such as if you have an office. However, you can apply for a separate loan for business-related disasters.
The SBA offers a 4% interest rate if you cannot get a loan from another lender to help with your home's reconstruction. The maximum interest rate is 8% if you can get one from another lender. You will need to provide collateral if you borrow more than $25,000. All borrowers must also have a good credit history and be able to repay the loan on time.
Private flood insurance is available with a shorter waiting time
Flood insurance from NFIP has a 30-day waiting time. The coverage will not take effect until after this waiting period. If you're worried about a storm coming or if there is a rainy season approaching, you should get coverage as soon as possible. 
Private flood insurance might provide coverage in some cases with a shorter waiting time of between 10 and 14 days.
Private flood insurance does not cover damage that has already happened or occurs within the waiting period. Insurers typically stop selling flood insurance when a major storm is approaching.
There are a few exceptions to the waiting period rule. If you purchase a new home or mortgage, both public and private flood insurance will be in effect immediately.
Flood insurance is recommended for those who have previously suffered flood damage. Your home is already at risk of flooding. There's no reason to believe it won't flood again. You may also need coverage to be eligible for FEMA grant money in the future.