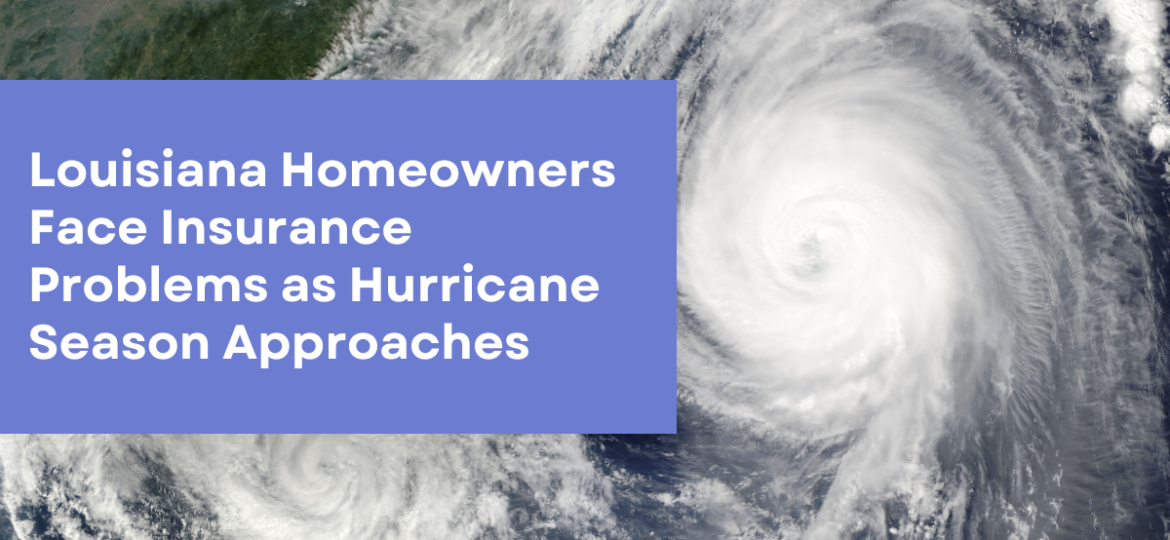 Louisiana's location along the Gulf Coast and the low-lying areas near its southern border makes it vulnerable to hurricane damage. The state's insurance market for homeowners insurance is under pressure due to the possibility of hurricane damage.
The key insights:
Since August 2020, six property and casualty insurance companies have been declared insolvent.

Louisiana is at risk of severe hurricane damage. This makes it challenging for insurance companies.

Louisiana's 2022 hurricane season is expected to bring about an increase in home insurance rates.
What's the state of Louisiana's home insurance market?
Many Louisiana home insurers are questioning whether they can offer coverage in this state. A few companies in Louisiana have already gone bankrupt, and others have stopped writing new businesses or left the state entirely due to the risk. This is making it difficult to get homeowners insurance coverage for a large portion of the Louisiana population.
Louisiana insurance companies are struggling
What is causing this nervousness among insurance companies? It all comes down to storm risk in Louisiana.
Mark Friedlander, Director, Corporate Communications, at the Insurance Information Institute, says: "The insurance crisis that Louisiana has faced is caused by excessive property loss from hurricanes. This had devastating consequences for small, regional home insurance agencies that were not adequately capitalized."
Jim Donelon, Insurance Commissioner for Louisiana also agrees, noting six companies have become insolvent after Hurricane Laura hit in August 2020. Although six companies may seem not to be too bad, Donelon points out that it's impossible to know how many businesses have stopped operations. Many thousands of policyholders are now affected, and many more could be.
Hurricane risk
The reason most companies leave Louisiana's market is simple: it is too risky.
Donelon noted that Louisiana had a "really long, quiet period in hurricane seasons until 2020." This may indicate that the market for homeowner's insurance has begun to recover from the challenges it faced after Hurricane Katrina. Companies may have been able to charge lower rates and keep lower claims reserves (money set aside for claims) because less damage was being done.
However, 2020 and 2021 saw four hurricanes in succession — Laura, Delta, Zeta, and Ida. These four storms left Louisiana with $76.65 million of destruction. 
Hurricane Ida caused approximately 72% of the damage in Louisiana, or $55 Billion. It struck the state in June 2021. Six property and casualty insurers were financially crippled by the rapid rise in risk, not to mention the large influx of claims. Even companies fiscally strong enough to withstand the barrage of losses may not be willing or able to handle what the National Oceanic and Atmospheric Administration (NOAA) predicts will be a stronger-than-average 2022 hurricane season.
It's only going to get worse. The National Climate Assessment shows that hurricanes have been increasing in intensity, duration, and frequency since the 1980s. They are expected to keep getting stronger. Insurance companies may be less inclined to provide home insurance in Louisiana as the risk of widespread destruction increases.
Reinsurance costs
The reinsurance model is the basis of Louisiana's home-insurance market. Reinsurance is an insurance policy that your insurance company buys to cover itself against financial loss. Reinsurance simply means that insurance companies can operate in less risky regions of the world to help subsidize their ability to operate in more risk-prone areas.
Reinsurance is expensive, just as any other type of insurance policy. Reinsurance is becoming more expensive due to increasing natural disasters around the world. Donelon confirmed that reinsurance costs are increasing and that insurance companies will likely pass some of those increases on to policyholders at higher rates.
What can be done to stop the crisis?
All of this sounds frightening — and it's far from ideal. However, Louisiana is taking steps to stabilize the market.
Lee Ann Alexander, Vice-President of State Government Relations at American Property Casualty Insurance Association, said, "[The legislators] have increased the financial commitments that businesses have to make in order to participate in the state to ensure this type of thing does not happen with such frequency. That's important."
This means that in order to be allowed to write state policies, insurance companies will need to show greater financial stability. This makes it less likely that companies will be ravaged by large-scale hurricane losses.
What can Louisiana homeowners expect?
Louisiana has the sixth-highest average homeowner's insurance premium cost in America at $2,009 per annum for $250,000 of dwelling coverage. This is 45% more than the national average of $1.383 per annum. Home insurance rates have been increasing to keep up with inflation. Louisiana's high-risk status is a factor that home insurers must take into account when setting rates.
Although Louisiana insurers cannot use past hurricane losses as a basis for rate increases, they can use future forecasts. Rates will likely rise throughout the year, as the 2022 hurricane season is expected to be more severe and destructive than usual.
Louisiana Citizens, Louisiana's last-resort insurer, may be able to provide coverage for you if you are a high-risk homeowner. The company is required to charge higher rates than private markets, which can make coverage expensive. Citizens Home Insurance may be the best option for homeowners in Louisiana who can't find insurance elsewhere. Citizens is designed to handle an influx of policies in times of high risk and will work to return these policies to the private sector when they are less likely to be a problem.
Nicole Ganley, Assistant Vice-President of Public Affairs at APCIA, also stresses the importance of reviewing your financial position. She advises, "Ensure your finances are current." Make sure you have sufficient coverage and that your policies are current. Inflation has a significant impact.
The bottom line
Louisiana has been difficult for even the top home insurance companies. The string of four hurricanes that devastated Louisiana between 2020-2021 has led to many insurance companies going out of business and others leaving the state.
Donelon believes that the state will be in a position to attract smaller home insurers to fill the gap left by the departures of the larger carriers. He is intimately familiar with the issue as he was one of the homeowners who lost their coverage because of a failing company. He says, "It's difficult; it's difficult." "But we are hopeful that, if we pray hard enough, we will be able to get through another hurricane season and not repeat the mistakes of the past two."