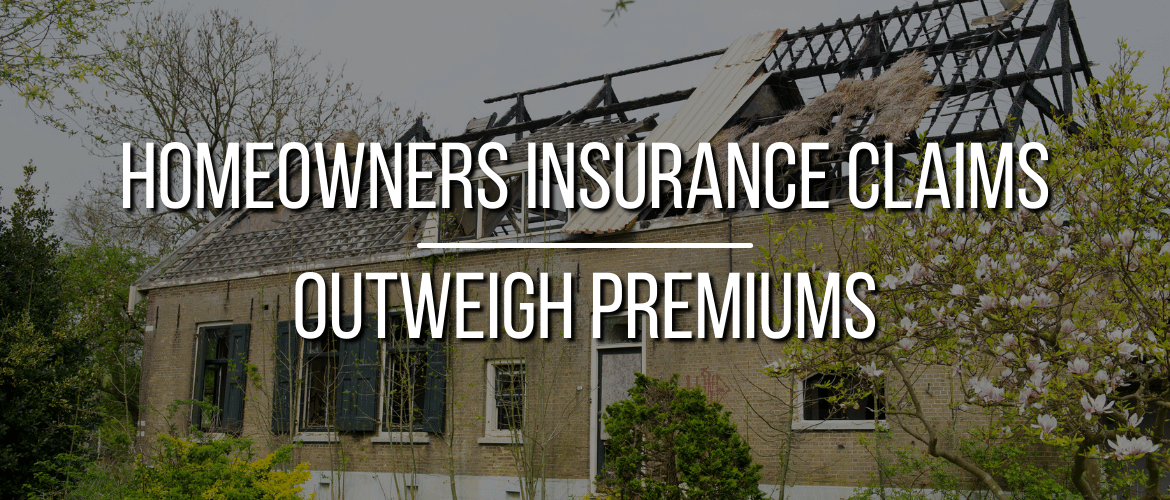 Homeowners' insurance claims outweigh premiums by a large margin, with more than two-thirds of homeowners reporting they had to file one in the last year. This article points out that the premiums may not cover a single claim and it could take years to recoup your losses from just one event without sufficient coverage for all possible risks.
Statistics on homeowners insurance claims
In 2015,

the average U.S. homeowner insurance policy costs $970 per year

. This can vary greatly between insurance companies, states, and cities. Even if your claim was not filed by you, it can impact your rates. Some people are questioning whether home insurance is worth it due to the rising cost. Although premiums have increased over the years, it pales in comparison with the average home value and the number of claims.

The

average claim for lightning or fire damage

was $37.153 between 2009 and 2013.

You can see the value. It would take

39 years to pay the annual homeowners' insurance premium

for the United States to reach the amount you would owe on average lightning or fire claims.

The

average medical expense

claim was second-lowest at $2,560 from 2009-2013, which is more than twice the annual

homeowner's insurance premium

.
If your home needs to be rebuilt completely, it could cost you hundreds of thousands or even millions. Your lender might require that the replacement value coverage is carried on a mortgage as well if they are not convinced that all potential risks have been eliminated by other means (such as flood plain liability insurance).
What amount of personal property coverage do you need?
Higher deductibles can lead to lower homeowners insurance plans. Some people suggest increasing your deductible to thousands of dollars. But are you prepared to pay $10,000-100,000 out-of-pocket to file a claim?
An insurance agent or company will provide a replacement cost estimate. This estimate will show insurers how much it would cost to rebuild your house. In terms of personal property and liability, etc. insurance costs cover more. It may seem that $10,000 to $20,000 is a large amount of coverage for personal property. When you add all of your furniture, clothes, electronics, books, and other belongings, it is easy to see how much coverage you need.
An insurance provider will provide numbers for personal property and other structures, based on the cost of replacing your home. While you can calculate the value of your possessions, many homeowners find it easier to consult an insurance agent.
What risks does your home face?
So, what are the risks your home faces? For many people, it's a question they don't think about.
The most common reason why individuals do not get enough or no insurance coverage on their homes when facing such hazards as fires and natural disasters (like hurricanes) isn't always because of lack of interest. It could just come down from either understanding too little about these matters despite having knowledge that would make them aware there were alternatives available; assuming this type situation will never happen.
But if you're not convinced by now then here is some information for how likely various events may occur:
One in fifteen homeowners, or 7%, will have to file a claim each year.

One in thirty homeowners files a wind or hail claim each year.

Each year, approximately 1 in 55 people suffer water damage or frozen pipe damages and need to file a claim.

1 in 200 will file a claim for property damage annually because of theft.

One in 250 homes will experience losses from lightning and fire every year. This is an average of more than $35,000 per home.

In 2013, 4.8% of households filed a property damage claim.

Calculate how much insurance you will need to ensure your home's structure
Standard homeowners policies cover disasters like hail, lightning, hail, and fire. Flood and earthquake coverage is required for residents who live in areas that are at risk. That's due to the much higher chance of flooding in areas such as the Mississippi Gulf Coast. You want your policy limits to be sufficient to cover the cost to rebuild your home in every instance.
Your home's price, or the current market price, maybe less or more than what it will cost to rebuild. Your mortgage may be the basis of your insurance limit, which some banks require. This could make it insufficient to cover the cost of rebuilding.
Your insurer will recommend a maximum coverage limit for your home's structure. However, it is a good idea that you also educate yourself. Consider these factors to ensure your home has sufficient structural coverage.
Factors that can impact the cost of home reconstruction
To quickly estimate the cost of insurance, multiply your total square footage by the local per-square-foot building costs. Note that the rebuilding costs do not include the land. For information on construction costs in your area, contact your local realtor, builders association, or insurance agent.
Reconstruction costs are affected by a variety of factors
There is a lot that goes into the cost of reconstruction, from labor to materials. Here are some other factors.
Types of exterior wall construction: frame, masonry (brick and stone), or veneer

House style. For example, colonial or ranch.

The number of bathrooms and other areas

Roof type and materials

Additional structures such as sheds and garages

Extra features like fireplaces, exterior trim, and arched windows

If the house or a portion thereof was custom-built

Improvements that have increased the value of your home, such as an additional bathroom or a kitchen remodel

Lower your homeowners' insurance premium
It's impossible to predict when you might need it but it can save you hundreds to thousands of dollars. Here are some ways to lower your homeowners' insurance premium.
Insure for the cost of rebuilding not the homes market value

Add only what is essential (e.g., protection for expensive jewelry or works of art).

Limit the number of claims you file to ensure that your rate doesn't rise.

Regular inspections of your home for pests and leaks are important to ensure that you are not a victim to uninsured disasters.
Homeowners insurance: Can I own a house without it
You can legally own a house without having homeowners insurance. In most cases, however, homeowners insurance is required for those with a financial interest in your house, such as a mortgage holder or a home equity loan holder. You will also want adequate homeowners insurance to protect your financial future.
The mortgage lender will require homeowners' insurance
Buyers who are looking to finance their home will quickly find out what mortgage holders already know: Your bank or mortgage company will likely require that you have homeowners insurance.
Lenders need to protect their investments. Homeowners insurance protects you and your home from financial loss in the event of a fire, tornado, hurricane, or other natural disasters.
Flood insurance is required by banks and mortgage companies if you live in areas that are likely to flood. If you are in an area that is susceptible to earthquake activity, some financial institutions may require earthquake coverage.
You are investing in a financial stake of a joint entity when you purchase a condo or co-op. Your condo board or co-op will likely require that you purchase homeowners insurance to financially protect the complex in case of an accident or catastrophe. If you are purchasing a condotel, the requirements will likely be the same as a condo. Either way, be sure to ask for clarification.
Homeowner's insurance provides financial protection for the long-term
No one will require you to purchase homeowners insurance once your mortgage is paid off. However, your home is likely to be your most valuable asset and long-term financial protection is important. A standard homeowners policy covers the structure, but also your belongings in case there is a natural disaster. It also provides liability protection in the event that you are sued for injury or property damage.
With all the money and care you've invested in your home, it's important to protect your financial assets and keep a homeowner's policy in place.
FASSBENDER INSURANCE
Fassbender is your wholesale insurance broker for all of your insurance needs. With over 30 years of experience, the experts at Fassbender can search over 50 different insurance providers to offer you competitive rates. We have offices in Slidell, LA and Bay St Louis, MS available to provide insurance to all of Louisiana and Mississippi.