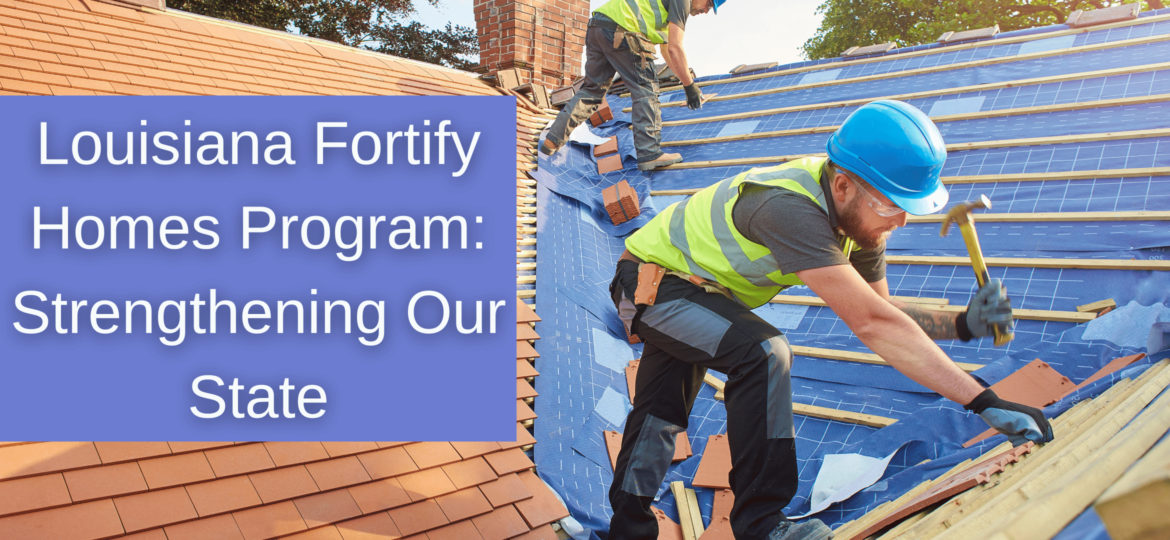 Here at Fassbender Insurance, we're committed to safeguarding Louisiana homeowners. We know how essential it is to make sure that you, your family, and your home are protected. That's why we're so excited to be able to talk about a new initiative that assists in doing just that.
The Louisiana Fortify Homes Program (LFHP) is aimed at helping the people of our great state strengthen their homes. By doing so, we can be better prepared for the unique challenges faced by Louisiana homeowners.
As we all know, hurricanes can unleash devastating forces. For those who own their homes, they can lead to extensive damages and financial losses. Recognizing the importance of proactive measures, the LFHP offers the opportunity for homeowners to reinforce their roofs.
By providing funding and incentives, the program not only encourages homeowners to take this big step towards protecting their homes. It can also significantly reduce the financial burden associated with it.
To help provide a better understanding of the LFHP, we've put this guide together. We'll discuss the significance of fortifying homes. We'll also explain how the program works, who qualifies, and, of course, the benefits it offers.
So, let's take a closer look at the Louisiana Fortify Homes Program. An initiative to not only strengthen our homes, but our state as well.
Understanding the Louisiana Fortify Homes Program
The goal of the Louisiana Fortify Homes Program is to empower homeowners to bring their roofs up to the FORTIFIED™ Roof standard. To accomplish this, the Louisiana Department of Insurance introduced the program to offer financial assistance and incentives to eligible homeowners.
The FORTIFIED™ Roof standard
Aimed at wind mitigation, The FORTIFIED™ Roof standard consists of using specific construction methods and materials to increase roof resilience. It focuses on strengthened roof edges, sealed roof decks, better attached roofs, and the use of impact-resistant shingles.
The standard was developed by the Insurance Institute for Business & Home Safety (IBHS). This non-profit organization is renowned for its expertise in creating wind mitigation standards and measures. Through extensive research and testing, the IBHS has identified the most effective methods for protecting roofs from severe storms.
By strengthening roofs, the Louisiana Fortify Homes Program aims to enhance home resilience, making them better equipped to withstand hurricane-force winds. This will reduce the risk of property damage caused by the severe weather we as Louisiana homeowners face.
Assistance and Incentives
Now we'll take a look at how the Louisiana Fortify Homes Program not only encourages, but assists Louisiana homeowners to make these improvements.
Grants
Through the LFHP, eligible homeowners can access financial grants of up to $10,000. These grants are available to help cover the costs associated with upgrading roofs to the FORTIFIED™ Roof standard.
Keep in mind that unlike a loan, grants do not have to be repaid. These are monetary gifts being offered to help Louisiana homeowners protect their homes and other property.
It is important to note that the grant funds are not given directly to homeowners. Instead, they're distributed directly to the approved contractor completing the work. Additionally, if the cost of the improvements exceeds the full grant amount, the homeowner is responsible for the difference.
These grants serve as a powerful incentive for residents to take proactive steps towards protecting their homes. By providing this financial support, the LFHP increases the likelihood of more homeowners being able to participate.
Insurance premium discounts
Aside from the immediate benefit the LFHP offers, there is a long-term financial advantage as well. In addition to the grant, the Louisiana Department of Insurance has guaranteed reduced insurance premiums for homeowners.
After the work has been completed and the home meets the FORTIFIED™ Roof standard, a certificate will be issued. This certificate will then be presented to the homeowner's insurer to receive the discount on their premium.
The amount of the discount will vary, however, the savings can be significant. Additionally, homeowners that choose to complete additional steps in protecting their homes may be entitled to larger discounts.
If ownership of the home changes hands for any reason, the FORTIFIED™ certification transfers to the new owner. This means that they'll be eligible for the premium discount as well.
Grant Eligibility and Other Details
There are certain requirements that must be met to qualify for the grants offered by the LFHP. In addition there are other important program details to be aware of before applying.
It's important to familiarize yourself with this information before applying. In addition, there are factors to keep in mind throughout the entire process.
Residency and home requirements
For a house to qualify, the homeowner must reside in the property as their primary residence. Verification of a homestead exemption will be required.

New construction homes, condos, and mobile homes are ineligible.

Duplexes are eligible, assuming the owner meets the primary residency requirement.

If the property is in a Special Flood Zone area, proof of in-force wind and

flood insurance policies

are required.

A home must be in good repair to qualify. This must be verified by a

FORTIFIED™ Evaluator

. Evaluation fees range from $300-$500, and are paid by the homeowner.
Additional important details
It's strongly recommended that homeowners ensure a FORTIFIED™ Contractor is available and willing to complete the work before paying for the evaluation.

Starting the improvements prior to getting program approval will disqualify the homeowners from receiving grants.

Completed projects must meet FORTIFIED™ Roof standard for grant eligibility.
Please keep in mind that these eligibility requirements and guidelines only apply to grant funding. Homeowners who choose to fortify their homes without the benefit of the grant are still eligible for discounts on their insurance premiums.
For additional information regarding program requirements, or for other questions, visit the Louisiana Department of Insurance's Louisiana Fortify Homes page.
Strengthened Homes for a Strengthened State
The Louisiana Fortify Homes Program shows the state's commitment to protecting its residents from the devastating impacts of natural disasters. By encouraging and supporting homeowners, the program offers a stronger and more resilient state for all Louisianans.
At Fassbender Insurance, we're ready to assist you in this process. Our team can help you navigate policies and potential discounts. We're here to support you in protecting what matters most – your home and family.
Contact us today for a policy evaluation. We'll make sure you have the right coverage and at the right price. Together, we can help create a more resilient Louisiana.